for insurance companies
Locate suppliers, schedule appointments for insureds and receive follow-ups. ProgiSync enhances effectiveness and traceability.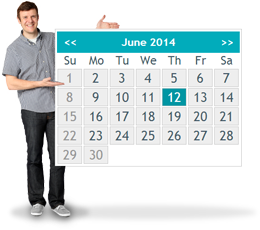 Helpful locating
Many search options can be combined to locate suppliers. Results are shown on an interactive map (works with Google Maps).
Preferred suppliers are indicated, for easier referral.

Useful for claims representatives
ProgiSync was created for claims representatives to reduce phone calls, improve customer service and enhance the overall client experience.
A supplier is located in seconds and their availabilities are displayed.
The appointment can be arranged instantly online, right at the first notice of loss, while on the phone with the insured.
Reports have shown that ProgiSync has helped shorten the cycle time between the FNOL and the estimate appointment in the case of auto claims.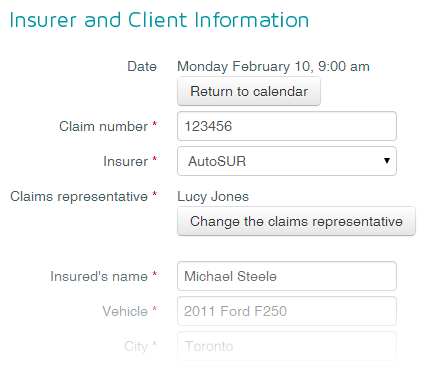 Preferred suppliers
Search criteria and search results clearly identify preferred vendors (e.g. DRP), helping to increase your referral rate.
This is beneficial for you and your partners.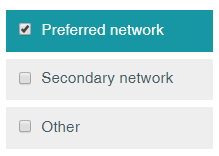 Notifications for the client
Appointment confirmations and reminders are sent to the client by email and/or text, providing effortless communication and enhancing the customer experience.
Branded communications are available, personalizing the experience for your insured.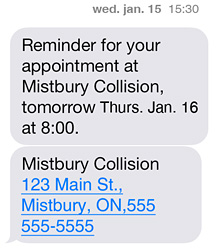 Integrated follow-up
Your supplier confirms that the appointment occurred and, depending on the appointment type, may specify the next appointment (e.g. repair date in the case of an auto estimate appointment). No phone call required!
A monitoring screen helps the claim representative keep track of ongoing claims.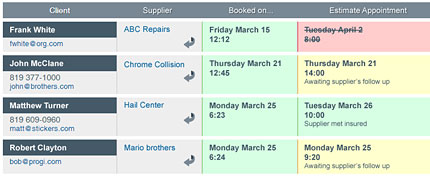 Catastrophe facility setup
ProgiSync may be used to set up a CAT centre, used when a crisis generates a high claim volume, such as hail storms.
A brightly coloured shortcut is made available to claim representatives, and insureds are placed in queue while the facility is being setup for mass processing of estimates. Reassignment to regular suppliers is possible.

How it works
Search & locate
various types of suppliers.
Book appointments
directly in the supplier's calendar.
Monitor claims
and receive follow-up.
Appointment booking service
Demonstration
Interested in a complete demonstration? We can plan a live or remote presentation with you.

Training
Training is offered to new members and webinars are offered periodically for new staff and/or refresher. Let a Progi representative know about your training needs and a solution will be offered.
Help documentation and customer support are also readily available.

Updates
ProgiSync is accessible online, so no software update is required. The online tools are available 24/7.

Security
Progi holds a SSAE16 certification. Encrypted data and a focus on best practices make ProgiSync a safe choice.