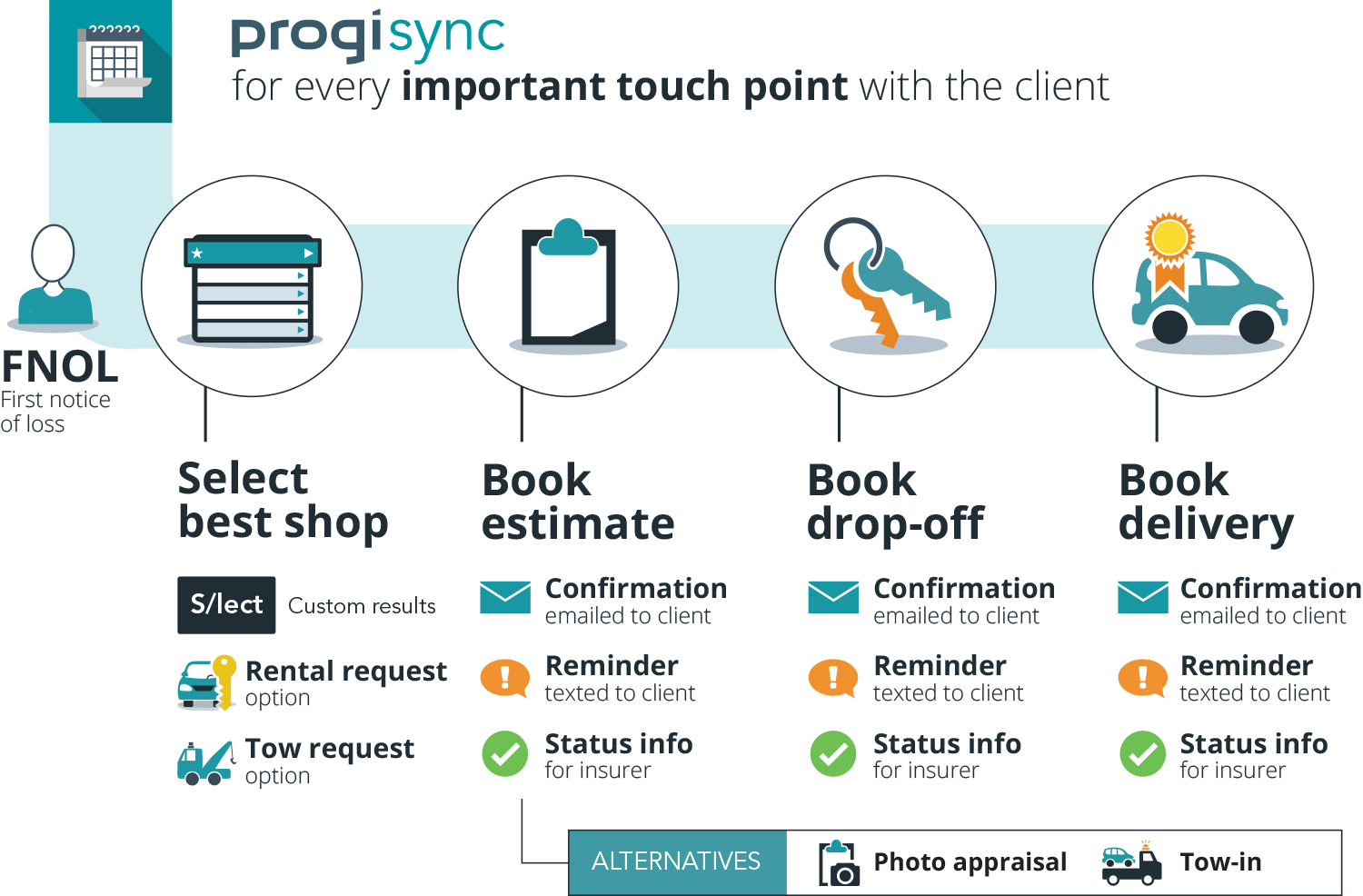 Optimize your referral process
at FNOL
Locate preferred vendors (e.g. DRP) and increase your referral rate.
Check out repair delay, distance and tow-in acceptance.
Inform your client of the repairer's next availability.
Help out with directions using our Google Maps integration.
Optimizing your referral process:
Book & Monitor
Act right at the first notice of loss to shorten cycle time.
Schedule an estimate appointment instantly for your client.
Alternatively, send an assignment for the appraiser :

Either as an appointment to plan, a tow-in or photo assignment.

Stay informed of following appointments and their status.
ProgiSync helps claims representatives to reduce phone calls, improve customer service and enhance the overall client experience.
Catastrophe Facility Setup
ProgiSync may be used to set up a CAT centre, used when a crisis generates a high claim volume, such as hail storms.
Claim representatives place insured clients in queue while the facility is being setup for mass processing of estimates. Self-booking and reassignment to regular suppliers is possible.
Various integrations are possible with your systems, for easier usage and to reduce double entry. Ask our account managers for more info.
Our bilingual team is available at all times during office hours. Our team is there to support yours.
ProgiSync Appointments is available on the web, on a secure platform, so no maintenance or updates are required. Available 24/7.
Electronic communications to the supplier and client contribute to reduce the call volume processed by claims representatives and the monitoring they have to do. They can concentrate on adding value for the insured client.
Help documentation and customer support are available. Training sessions may be planned with you for your team.
Request a demo
Let's meet!
ProgiSync Appointments interests you and you'd like to talk with our team to learn more? Request a demo!
Request a demo