for insurers
Through the ProgiParts platform, insurance companies can manage their supply chain by getting involved in auto parts procurement.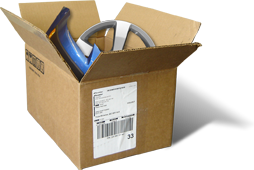 Ordering Software for Appraisers and Collision Shops
This tool allows collision repair shops and insurance company appraisers to find and order the auto parts they need for repairs, from a variety of suppliers.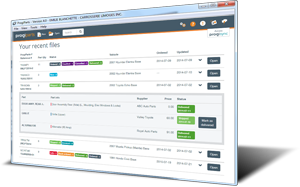 Agreements with Suppliers
Centralizing parts purchases on a single platform consolidates the insurance company's purchase volume. This can translate into business agreements with part suppliers.

Auditing
ProgiParts allows the insurance company to audit files and orders made by repair shops for jobs they completed for them.
Parts searched by the repairers are listed, with indicators on parts ordered.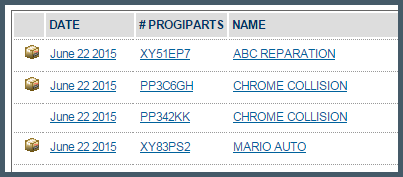 KPI and Market Trends
Data analysis is supported by tools showing key performance indicators and market trends.
Part suppliers and shops profiles give an overview of their performance.

How it works
Import
parts list from estimate file
Receive confirmation
of availability and price by suppliers
Compare
parts offered
Order
Select parts. Submit. Done.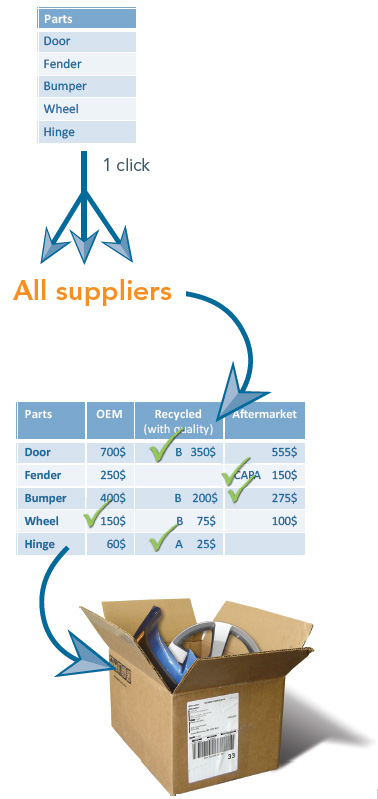 Key performance indicators
Less errors, returns, credits
Demonstration
Interested in a complete demonstration? We can plan a live or remote presentation with you.

Training
Training sessions are offered periodically to new and existing ProgiParts users.
A Progi representative also makes visits to shops, to check if they have questions and follow up on their experience with Progi products.
Help documentation and customer support are also readily available.

Updates
The ProgiParts software for shops is currently at version 4.1.5. The 'About' menu may inform you on your current version.
ProgiParts users receive an email with a download link when a new version is released. The update is also sent directly to their software. If needed, you may contact our customer support to request a download link.

Security
Progi holds a SSAE16 certification. Encrypted data and a focus on best practices make ProgiParts are safe choice.