for collision centres (ProgiLog)
Auto collision centres use ProgiSync Updates to share progress on the vehicle repair with the owner and claims adjuster. An online file shows pertinent information, offering clients an exclusive access to the ongoing repair operations.
Part of the ProgiSync suite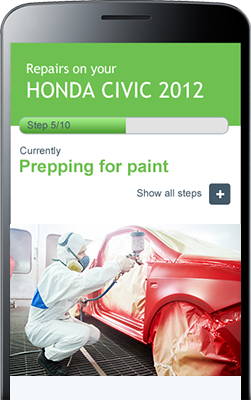 Features
Hang Up The Phone
Follow up on files directly on the web at your convenience. Say goodbye to phone calls, create a client experience without hassles.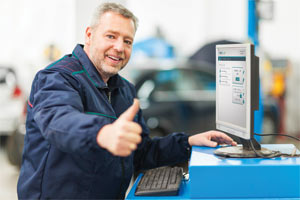 Take Charge Of Your Clients
Personnalize your clients' experience by selecting progress steps for your files. Specify delivery dates for your clients if you wish.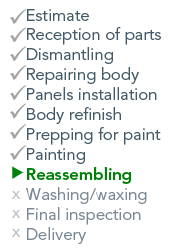 Communicate Directly
Communicate directly with your clients or the claims adjuster by adding messages to the file, or simply by email notification, as soon as there's progress on a file.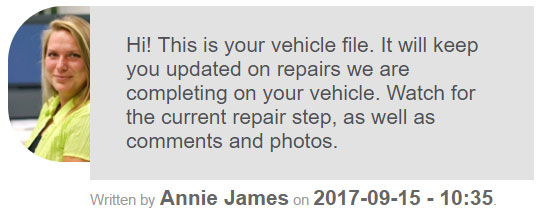 Add Photos And Videos
In a few clicks, add photos and videos of the repair progress. Captivate your clients' interest by offering them visual content.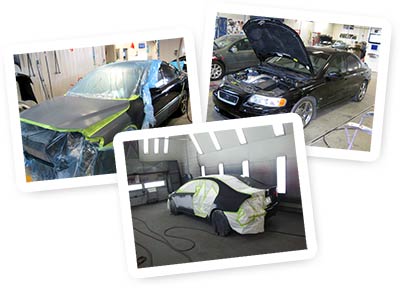 Update Files In A Breeze
Just a few clicks or taps are enough to follow up with clients and claims adjusters.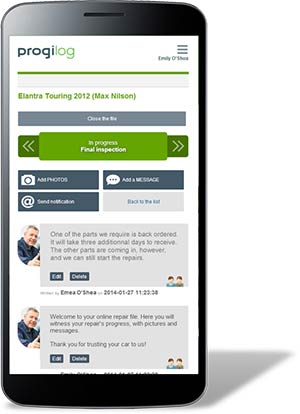 Reduced volume of phone calls
Improved customer satisfaction
Centralized communications
Demonstration
Interested in a complete demonstration? We can plan a live or remote presentation with you.

Training
Training is offered to new members. A Progi representative also makes occasional visits to Progi users to offer advice and answer questions.
Help documentation and customer support are also readily available.

Updates
ProgiLog is accessible online, so no software update is required. The online tools are available 24/7.

Security
Progi holds a SSAE16 certification. Encrypted data and a focus on best practices make ProgiLog a safe choice.