Unless you are a professional athlete and your body, in the blink of an eye and without warning, breaks down and makes the decision for you, retirement usually is a long and gradual process. For most people, preparing for retirement involves a lot of planning. At the professional level, you must generally take the necessary steps to fill the void you will leave behind. This is especially the case when you occupy a high-level position and must choose your own replacement.
This is precisely the adventure that Jean Robitaille, owner of a CarrXpert collision shop, just went through. How do you select the best candidate? How do you prepare your successor? How do you announce the news internally? How do you make the transition, without losing clients or business partners? This is the story he was kind enough to tell us.
One year ago, when Jean Robitaille told his employees he was going to retire, they didn't know it was coming, even though, aware that he was past sixty, they kind of suspected as much.
But let's go back in time a little. Initially, Jean Robitaille co-owned a car dealership with his brother. However, they did not share the same vision, and after a few years, he put an end to that partnership and sold his shares in the company.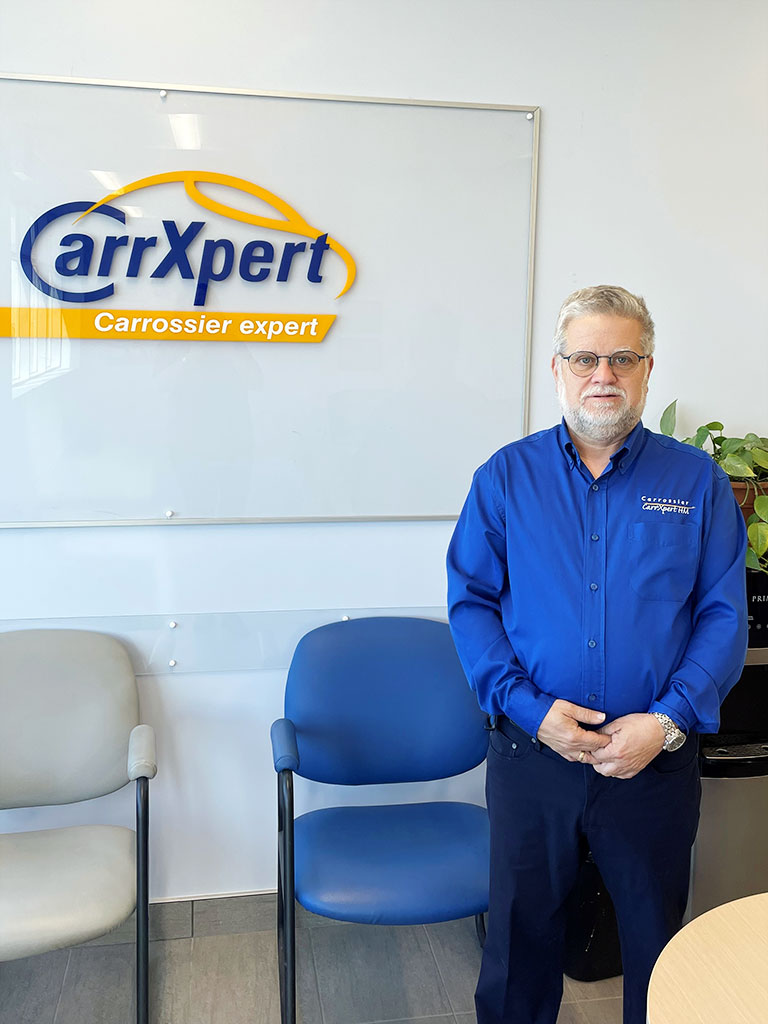 Jean Robitaille's second career started after a six-month break, when he opened his own collision shop, under the CarrXpert banner. Business was good and the company grew steadily over the years, collaborating early on with Mazda and Honda, and then adding Nissan and Mitsubishi in 2010. When the time to ponder retirement came around, discussions were ongoing with Volkswagen and Toyota.
What followed was a transition process that spanned almost three years. In this process, that would lead him to sell his workshop and work towards ensuring continuity, three main principles guided Jean Robitaille:
1. In full swing
Jean Robitaille believes the best-case scenario for selling a business is when it's at peak performance, and still growing. Not only does it help in obtaining a better selling price, it also helps attract higher-quality candidates to ensure that the company continues to move in the right direction. A neglected business that would require a lot of work to turn around is indeed less attractive and the transition may be more difficult.
2. The right candidate
The search for candidates was an informal process that went on for a year and a half. There was no formal or official campaign. Jean Robitaille preferred having casual conversations with various colleagues, to understand how they approached the business. As the discussions went on, three candidates stood out. He looked for two essential criteria when choosing a successor:
they should have a similar management philosophy;
they need to have the vision and potential to develop the company further.
After a year and a half of ongoing discussions, he ended up choosing a colleague from Rimouski, who also owned a collision shop, and had a similar eye for the business. As a bonus, he also happened to be familiar to his future employees.
3. A gradual transition
Of course, the employees having already met their future owner during collision shop visits helped a lot when the time came to make the announcement. In order to ensure continuity, Jean Robitaille put a one-year transition plan in motion. The key was to proceed gradually. At first, he accompanied the next owner in most of his activities and then, every month, he would progressively loosen his grip and lighten is schedule. He supported his successor in negotiations with Volkswagen and Toyota, which concluded successfully. The transition worked wonderfully, the business continued to grow, and no client or employee was lost in the process. The collision shop even moved to a new, larger building, enabling the company to grow even further.
Jean Robitaille can now retire with peace of mind. His story demonstrates how important it is to have a long-term plan in place in order to lay the groundwork, find the ideal candidate and achieve the transition under the best possible conditions.
The legacy he wishes to leave behind is a business that knows how to take good care of its employees: the collision shop has existed for 16 years, many of its employees have been around for ten years or more, and the turnover rate is quite low.
When the time came to think about retiring, the idea that guided him was to make sure that, should he visit his collision shop in five years, its numbers will have doubled. His transition plan will certainly help the company turn that idea into a reality. Let us wish Jean Robitaille all the best in his well-deserved retirement.
Author: Nelson Guilbert
Collaboration : Charles Aubry, Jean Robitaille
Translation: Sophie Larocque
Editing: Émilie Blanchette