Originally published on Auto Recycling World.
Ingenext, a Canadian-based auto recycling center, is revolutionising the automotive recycling industry with its innovative approach. Unlike traditional recyclers, Ingenext focuses exclusively on electric vehicles (EVs) and is driven by a mission to reuse EV parts and reduce waste. By challenging conventional norms and embracing audacious ideas, Ingenext has positioned itself as a trailblazer in the field of automotive recycling. We find out more.
Ingenext is an automotive recycling center like no other. They are exclusively dedicated to electric vehicles, and, like many other recyclers, they have a green mission focused on reusing electric vehicle parts. They consider it scandalous to discard a battery that is still in good condition but only at 30% of its capacity, as it still has applications. At Ingenext, they strive to reuse until recycling is the only option left.
Based in Quebec, Canada, they work with international partners, including those in the United Kingdom and the United States. Their fully internalized process sets them apart, which they achieve by maintaining a lean inventory that directly meets their needs.
Similar to many traditional automotive recyclers, they source their raw materials from local recyclers or Canadian and American auctions. Electric vehicles are abundant in North America because insurers declare them total losses even if they have minimal damage.
However, Ingenext's business model is unique regarding adding value to materials like batteries. They repurpose automotive batteries to convert specialized vehicles, such as baggage tractors at airports, or to make homes and businesses energy self-sufficient using components recovered from electric vehicles. A concrete example of this application is Ingenext's partnership with Elmec Inc., a Quebec success story that builds autonomous electric tractors for the agriculture industry.
Alissa André, Director, Véhicules Électriques (EV) from Simon André, said:
"As a mechanical repair shop dedicated exclusively to electric vehicles, recyclers like Ingenext are indispensable. They have a large stock, and their expertise enables us to choose the right components to repair our vehicles. Buying used parts also helps reduce the customer's bill, which is very important if we want to remain competitive!"
They also undertake passion projects, such as converting rare cars into fully electric vehicles or improving the performance of existing electric vehicles. In the United Kingdom, they collaborate with ZeroEV on conversion kit design.
Chris Hazell, Chief Executive Officer at Fellten, commented:
"Thanks to Ingenext's motor and battery controller, we can develop conversion kits based on Tesla Model 3 or Y components. We also believe that the reuse of electric vehicle components has incredible potential."
Ingenext is a young recycling centre founded during the pandemic that boldly placed its bets on the electric car, its promising future, and its various applications.
One of Ingenext's challenges is dealing with the raw material itself. It is a challenge shared by many people who are buying unusable recycled batteries because they do not possess the expertize, and neither does the seller. Identifying batteries with potential value from irrecoverable ones requires significant expertise and precision. Additionally, battery transportation is regulated by the government, imposing certain barriers to operational flexibility.
Ingenext has successfully overcome this challenge and become a global reference. Besides doing a thorough assessment of used batteries, the success factor is to be able to process them relatively quickly. A challenge also mastered by Ingenext.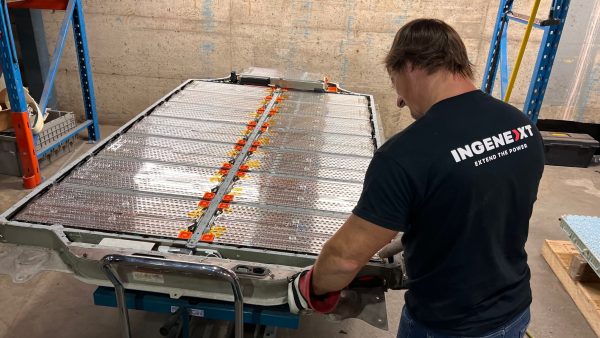 With all this uniqueness, Ingenext is also facing the challenge of following an ever-evolving technology, but for them, it means opportunities. The more technology evolves, the more they could propose other applications to their expertise.
Ingenext anticipates the transformation of the automotive recycling market with the changing landscape of the automotive industry. However, they are confident that there will be room for all stakeholders.
To use battery language, what is the state of health of traditional auto recycling? Is the industry looking forward enough? Usually, in auto recycling, to stay pertinent with our offer, we should ask ourselves what the demand for the next five years will be, and can I add value to my offer? Ingenext decided to look 10 to 15 years ahead and find out contemporary applications. Are they a special species or a model to follow?
One thing is certain, the future awaits Ingenext, but Ingenext is not waiting for the future. They strive to stay ahead of the curve.
To find out more about Ingenext, go to ingenext.ca
Written by Alexandre Rocheleau, Progi, in collaboration with Marie-Pier Forget, Ingenext
All images courtesy of Ingenext.