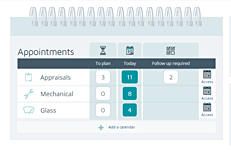 Since April 13, a new design was applied to the ProgiSync interface for auto collision centres. This new design allows to use multiple calendars.
In addition to the original appraisal calendar, two new types are now available: mechanical and glass. Other types are planned for the future.
The welcome page now shows a summary of activity for each active calendar, and top navigation was adapted to support the new features.