for insurance companies
Through a user-friendly, linear process, the customer can start their claim online, right from the loss location, in a few minutes. In short, it's a first notice of loss for the smartphone generation.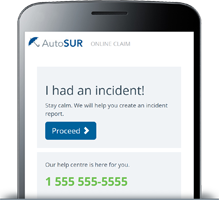 Step by step
The application uses a linear process which guides the insured client through a series of simple questions allowing him/her to describe the accident's circumstances and add pertinent details.
After revision, the collected information is submitted to the insurance company.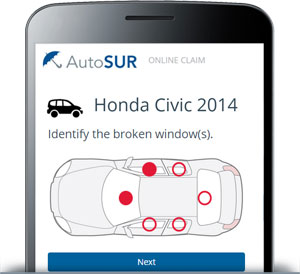 Accident report
In the case of an accident with a third party, a summary of information collected by the application can be sent by email to the other vehicle's owner and the insurer, acting as a joint report, when possible.
This tool is an added value for the client, who does not always have this document on hand when needed.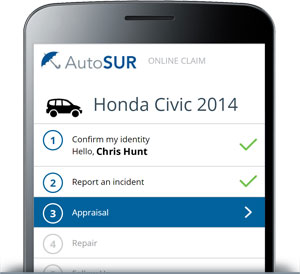 A picture is worth a 1000 words
The client can upload pictures of the damaged vehicles through the app, which will be attached to the file and inserted in the accident report.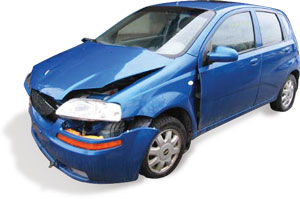 Estimate scheduling
The service integrates perfectly with ProgiSync, Progi's supplier locator and appointment booking solution.
This allows the insured client to locate a recommended collision repair center close by, for example, and book an estimate appointment straight from the app.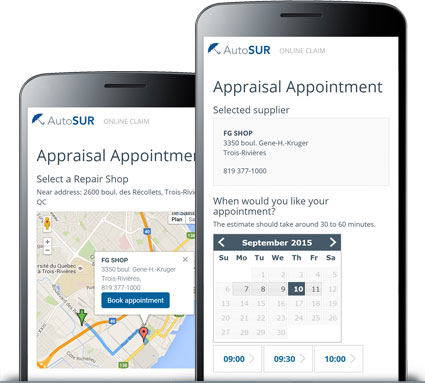 White-label
The service's basic design is simple and pure, which can be more easily adapted to your company branding, making it a transparent solution for your customers.
Accessible
This service can be accessed on the web directly on your website or integrated into your existing smartphone app, if your offer one.
In both cases, the process offers an easy authentification for the insured client, in accordance with rules set by the insurer.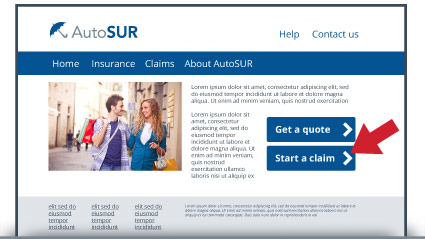 Tool for a modern clientele
Demonstration
Interested in a complete demonstration? We can plan a live or remote presentation with you.

Training
For the insured user, the application is simple to use and does not require any training. For claim representatives, the training required depends on the integration with the insurer's internal processes; if needed, a Progi team member can offer training sessions and/or information reference material.

Updates
Online Claim is accessible online, so no software update is required. The online tools are available 24/7.

Security
Progi holds a SSAE16 certification. Encrypted data and a focus on best practices make Online Claim a safe choice.
Additionally, when implementing this service, Progi applies the required adjustments so that it respects the insurance company's security standards.